This is one of the first things I wanted to blog about when I first got started here: the big trend for summer 2017. It's yellow! Think of a fresh, beautiful, zesty shade of yellow… Why is it relevant? Because lets face it, summer is nearly over (no summer, don't leave me!) and its important, now more than ever, to squeeze whatever is left of it out of the tube before autumn rolls in.
At the start of June, I was wandering around Globus (in Luzern) having a look at things I can't afford (which is a hobby of mine) then I saw it; I fell in love! The Maison Mollerus shopping tote in lemon, is still a bag I lust for and am yet to own. And that's it really. That is the story of how I knew yellow is the colour for summer this year.


To shop: Maison Mollerus "ZUERICH" Shopper
Now among the many outfit ideas I was then creating in my mind around how I would style the bag with an everyday "Gill" outfit, I was thinking of all the other things in yellow that I might otherwise be actually able to afford… and that was ASOS. They have cute and mostly affordable designs that every woman can wear. (I totally love their wide range of ASOS Curve & Plussize clothes!) One of the many things that caught my eye: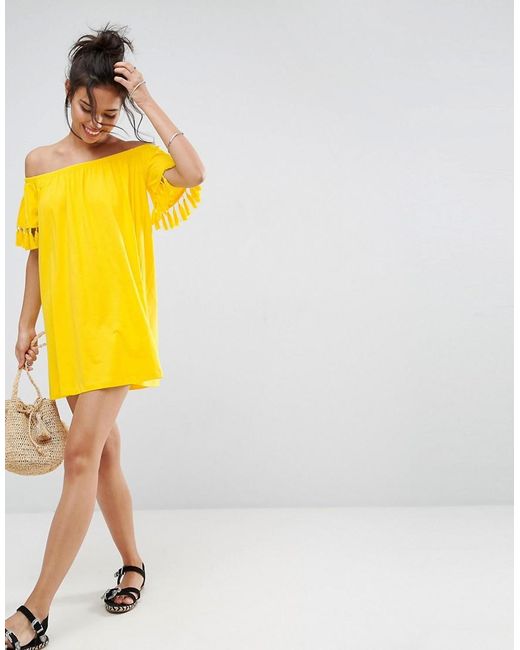 To shop: ASOS Off Shoulder Sundress 
How cute is this? Perfect for a hot summer's day. Or even for the short commute to work. It would definitely make me a little more excited to get changed out of my hot work clothes into this after a shift. (I'm a pastry chef by trade…)
Or there is also this simple top, (below), which is easily pairable with some shorts or skirt. I like the idea of keeping the bottoms in white. It keeps the look light and effortlessly chic. Oh, and those red lips! Very cute, yet something I personally don't feel like I could pull off for a "day time" outfit. Nevertheless, I've now made a mental note to try red lips again soon…
To Shop: Zara Metallic Button T-shirt
So… you get the idea. I love yellow. Yellow is nice. Yellow is the colour of summer. Bright, fun and probably can be incorporated into the rest of the year. Hmmm.. do I predict rain/trench coats, gumboots, scarves in yellow for autumn and winter? I guess we will find out in the next couple of months!
x Gill Tonic